This is a living document. Please check back closer to the festival for more details!
Welcome to Platinum!
Welcome back to Sea.Hear.Now! We're so excited to once again open the gates to Asbury Park for an amazing weekend of live music right on the water! Your Platinum perks will help you make the most of your weekend with up-close viewing, a private lounge and more!
We've compiled this guide to help you take full advantage of everything Platinum has to offer. We've also included essential info on our health and safety policies and general festival details. Be sure to share this with everyone in your group so all are in-the-know. And if there is anything we left off, email info@seahearnowfestival.com with questions. We can't wait to see you in the park!
BEFORE THE FESTIVAL
Health & Safety
Bring your Festival Wristband
Please also remember our updated bag policy– CLEAR BAGS ONLY – and No liquids are allowed to be brought into Sea.Hear.Now Festival.
There is no local requirement to provide a Negative COVID-19 test result, Vaccine Card, or Vaccine Record for entry at this event. If you are unvaccinated, the CDC encourages you to bring and wear a mask.
If you have questions about vaccines or want to get a vaccine, please visit Vaccines.gov to find the nearest vaccine provider near you. Current information about COVID-19, and recommendations for isolation and quarantine can be found at the CDC website.
How to Dress & What to Bring
Dress for comfort and be sure to check the weather forecast before you head out the door. The festival grounds are a combination of paved surfaces, boardwalk and sand, so choose your footwear accordingly. We recommend a hat and sunglasses, but if you forget anything, the Festival Store has lots of great merchandise offerings!
Review this link to be sure you are in compliance with our bag policy and to see what items are allowed and prohibited.
Platinum Wristbands
Will Call
If your wristbands were not mailed to you and are at Will Call, you can pick them up at the Festival Box Office. A government-issued ID is required to verify your order and pick up tickets.
Box Office Location:The Box Office is located at the Wonder Bar Parking Lot . Located on the corner of Ocean Ave & 4th Avenue just south of the Wonder Bar building in Asbury Park, NJ
Box Office Hours:
Friday: 12pm – 6pm
Saturday: 10am–9:30pm
Sunday: 11am–9:30pm
Wristband Activation
Wristband activation ensures a smooth process when entering the festival each day and allows you to add emergency contact information to your wristband. All you need to do is enter your wristband ID number (located on the inside of your wristband) and contact info to activate.
GETTING IN THE FESTIVAL
Hours
Saturday: 12pm - 11pm
Sunday: 12pm - 11pm
Location & Entry Gate
Sea.Hear.Now takes place at North Beach of Asbury Park- Bradley Park-Atlantic Park 1300 Ocean Ave, Asbury Park, NJ 07712. Look for the VIP/Platinum Entry lane for expedited entry at both entrances.
*TIP - Enter the Festival through the 7th Street Entrance, as that is the closest one to your Platinum Area.
Passenger Drop Off & Pick Up Location
Our official passenger drop off and pick up location is:
115 4th Ave Asbury Park, NJ 07712
Car Parking
Click here to learn more about public parking options near the festival, and to view a public parking map via the City of Asbury Park's website.
‍Note: Due to road closures around the festival site, some public parking will be unavailable during Sea.Hear.Now.
Bicycle Parking
Bike parking at Sea.Hear.Now will be available at the corner of 4th Avenue & Kingsley Street – near the festival's Box Office and Main Entrance. Cyclists must provide their own locks.
Road Closure
Please note the following map for Road Closures for Sea.Hear.Now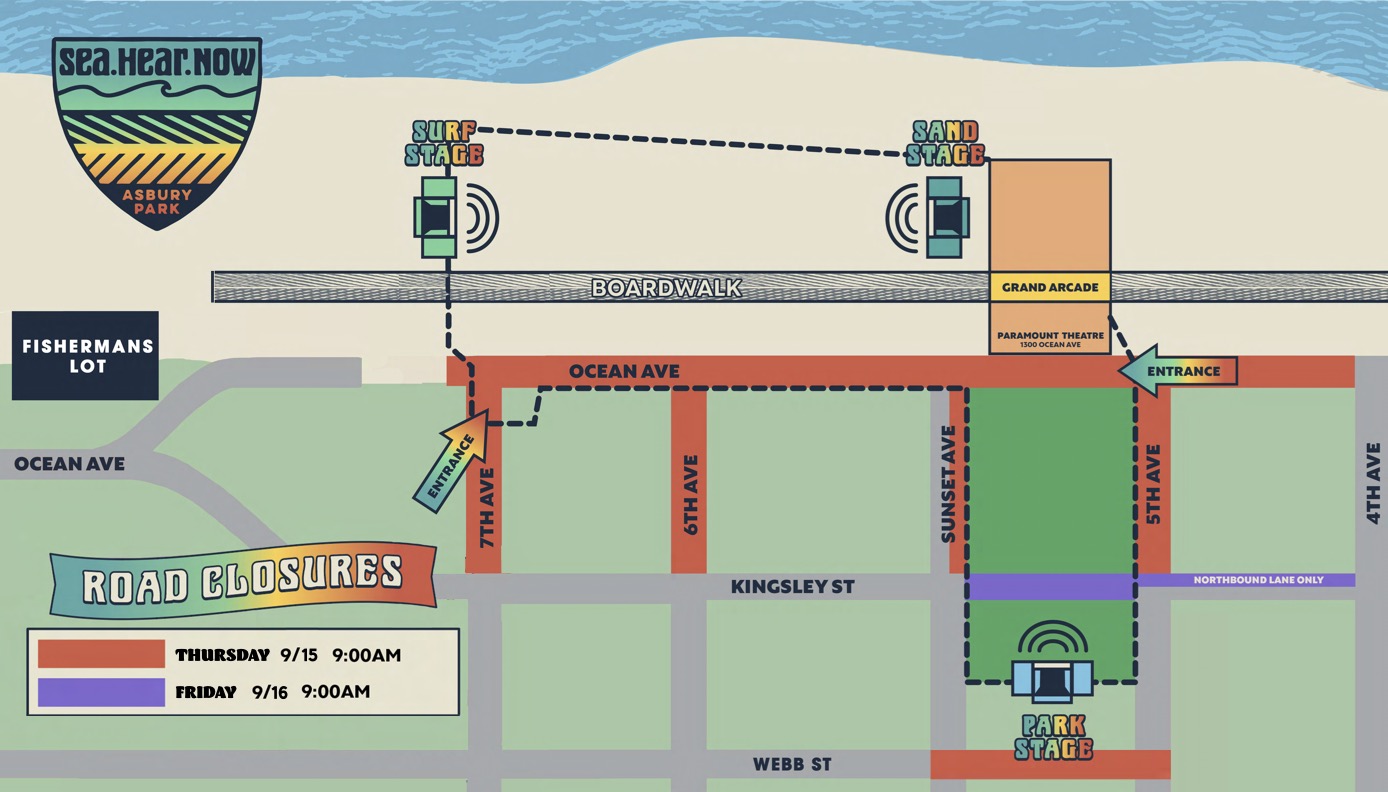 AT THE FESTIVAL
Platinum Lounge
New location this year! The Platinum Lounge is your secluded oasis located between the Surf Stage and 7th Street. Entrance is located within the VIP Lounge. Look for the VIP entry portal near the 7th street roundabout on the north side of the street then take a right upon entry to see the Platinum entry portal. Inside you'll find everything you need to make the most your Sea.Hear.Now weekend, including:
Covered, beautifully decorated space with a variety of seating
Full-service bar with all-day beer, wine, seltzers, cocktails and non-alcoholic beverages
Daily lunch, dinner and snacks
Premium bathrooms
Complimentary lockers with mobile chargers
Concierge service — Our staff are here to assist you with any festival questions, wristband issues, festival survival supplies or anything else that comes up.
*All viewing areas are limited capacity and available on a first-come, first-served basis. With the exception of ADA viewing, no chairs are allowed in viewing areas.
VIP/Platinum Viewing Area at Park Stage
Located house-right (to the right if looking at the stage) of the Park Stage, this exclusive area is just for VIP and Platinum guests and includes:
Air-conditioned restrooms
Picnic table seating
Separate Platinum-only bar
Platinum front-of-stage viewing pit
Entrance located on the far right side, near the Charity Row shops.
ALL-INCLUSIVE DINING AND DRINKS
Beverage Offerings
Have a drink on us at two full-service bars, each serving complimentary beer, wine, cocktails and non-alcoholic beverages.
*NOTE - alcoholic drinks are NOT allowed outside of Platinum areas. You must finish any drinks before leaving.
Platinum Lounge Bar
Park Stage Viewing Area Bar — For convenient thirst-quenching while watching the bands on the Park Stage.
MENU:

• Tito's Sparkling Lemonade
Tito's Vodka + Fresh Lemonade + Club Soda + Lemon Garnish
• Aperol Spritz
Aperol + Cinzano Prosecco + Club Soda
• Hendrick's Cucumber Mule
Hendrick's Gin + lime juice + simple syrup + ginger beer+ Cucumber/mint garnish
• Basico Tequila Margarita Cocktail
• Corona 24 oz
• Corona Premier 24 oz
• Pacifico 24 oz
• Sierra Nevada Hazy Little Thing 19.2 oz
• Sierra Nevada Pale Ale 19.2 oz
• Miller Lite 24 oz
• White Claw 24 oz : Black Cherry
• White Claw 24 oz : Mango
• Mamitas Tequila & Soda 12 oz
Paloma or Tequila Sunrise
• Strainge Beast Hard Kombucha 12oz:
Ginger Lemon Hibiscus or Watermelon
• Wine Glass
• Soda 12oz
• Liquid Death Mountain Water 16.9 oz
• Celsius Energy Drink
• Waterloo Sparking Water 12oz
Dining Offerings
No need to go hungry with delicious bites all day in the Platinum Lounge. We'll have a selection of hand held favorites in the afternoon with an expanded range of hot and cold dishes in the evening hours, followed by late-night snacks to enjoy with the final sets of the festival. All food is served in the Café within the Platinum Lounge and will include options for those with dietary requirements.
SATURDAY LUNCH 12PM – 3PM
Roasted Beet Salad (GF)
Kale, Quinoa, Clementine, Sunflower Seeds, Pickled Red Onion, Feta Cheese, Citrus-Cardamon Vinaigrette
Watermelon Jicama Salad (GF) (Veg)
Baby Lettuce, Red Onion, Feta Cheese, Toasted Sunflower Seeds, Garden Herb Vinaigrette
Soba Noodle Bowl Salad (Veg)
Mango, Cashews, Pickled Cabbage, Golden Raisins, Avocado, Citrus Vinaigrette
Protein Additions for Salads:
Grilled Free Range Chicken
Faroe Island Salmon
Chickpea Falafel (Veg)
Shaved Lettuce, Tzatziki, Feta, Jersey Tomato, Naan Flatbread
Mini Josephine Slider (Veg)
Crispy Eggplant, Baby Arugula, Sundried Tomato Pesto Aioli, Fontina Cheese, Ciabatta
Crispy Hot Chicken Slider
Coleslaw, Secret Hot Sauce, Pickles, Potato Bun
Hummus Wraps (Veg) (V)
Harissa, Organic Greens, Pickled Vegetables, Jasmine Rice, Spinach Wrap


HAPPY HOUR SNACKS – 3PM – 5PM
Fresh Veggies & Hummus
Assorted Pre-Packaged Options: Chips, Nuts, Candy, Dried Fruits, Pretzels


SATURDAY DINNER 5PM – 8PM
Garden Heirloom Tomato Salad (GF) (Veg)
Baby Lettuce, Shaved Fennel, Red Onion, Cucumber, Feta Cheese, Lemon-Basil Vinaigrette
Kale Caesar Salad (Veg)
Herb Croutons, Pecorino Crisps, Oven Roasted Tomato, Traditional Caesar Dressing
Local Sea Bass
Blue Crab Crust, Jersey Corn Sauce
Braised Jamaican Jerk Chicken (GF)
Jerk Peach BBQ
Coconut Curry Tofu (Veg) (V)
Local Seasonal Vegetables, Green Curry Sauce
Ancient Grain Pilaf
Forbidden Thai Rice, Golden Quinoa, Farro, Roasted Seasonal Vegetables
Roasted Heirloom Carrots (GF)
Local Honey, Ginger, Mint-Marigold
Artisan Rolls & Butter
Assorted Dessert Platter
Chocolate Chip Cookies, Oatmeal Raisin Cookies, Russian Tea Cookies, Seasonal Mini Cupcakes, Mini Chocolate Fudge Brownies, Seasonal Mini Bars

SUNDAY LUNCH 12PM – 3PM
Summer Salad
Baby Greens, Roasted Corn, Peppers, Red Onion, Avocado, Cherry Tomato, Green Goddess Dressing
Tabbouleh Salad (Veg) (V)
Bulger Wheat, Tomato, Cucumber, Red Onion, Mint, Parsley, Lemon Olive Oil
French Baby Potato & Green Bean Salad
Warm, Shallot-Champagne Vinaigrette
Protein Additions for Salads:
Grilled Free Range Chicken
Faroe Island Salmon
The Joey Slider
Crispy Chicken Cutlet, Provolone, Baby Arugula, Tomato, Pesto Aioli, Balsamic
BBQ Pulled Pork Slider
Pineapple Pico de Gallo, Crispy Onions, Brioche
Grilled Vegetable Hummus Wrap (Veg) (V)
Pickled Vegetables, Organic Greens, Spinach Wrap
Grilled Chicken Caesar Wrap
Organic Kale, Croutons, Pecorino, Jersey Tomato, Whole Wheat Tortilla Wrap
HAPPY HOUR SNACKS 3PM – 5PM
Fresh Veggies & Hummus
Assorted Pre-Packaged Options: Chips, Nuts, Candy, Dried Fruits, Pretzels
SUNDAY DINNER 5PM – 8PM
Strawberry & Spinach Salad (GF)
Spinach, Red Onion, Cucumber, Red Beets, Goat Cheese, Honey-Lavender Vinaigrette
Traditional Greek Salad (GF) (Veg)
Tomato, Cucumber, Red Onion, Olives, Feta, Baby Greens, Red Wine Vinaigrette
Local Atlantic Swordfish (GF)
Harissa, Lemon-Cucumber Relish
Summer Vegetable Chickpea Cake (Veg)
Cilantro-Kale Slaw, Pickled Onions
Korean BBQ Pasture Pork Loin (GF)
Cacio E Pepe
Mezze Rigatoni, Peppercorn-Truffle Butter Sauce, Garden Chives
Roasted Local Summer Squash (GF) ( Veg)
Herb Chermoula
Artisan Rolls & Butter
Assorted Dessert Platter
Chocolate Chip Cookies, Oatmeal Raisin Cookies, Russian Tea Cookies, Seasonal Mini Cupcakes, Mini Chocolate Fudge Brownies, Seasonal Mini Bars
Viewing Areas
By far one of the most popular perks of Platinum is access to fantastic stage viewing! We have exclusive spaces at all three stages. Please note that all viewing areas are subject to capacity limits and available on a first-come, first-served basis.
Surf Stage


Front-of-stage — Accessible via the boardwalk from house-left (to the left as you're looking at the stage)
Viewing Deck - located within Platinum Lounge
On-stage viewing - Accessible from Platinum Lounge, pending artist approval. Headliners unlikely.

Park Stage

Front-of-stage, accessible via the GA field house-right (on the right side if looking at stage)
Includes full-service bar and air-conditioned bathroom

Sand Stage

Front-of-stage, accessible via the boardwalk from house-right (the right of the stage as you're looking at it)
The Extras
As if all of the above isn't enough, we also have these fun additions for you:
Access to VIP and GA+ — Enjoy unfettered access to all VIP and GA+ areas
Merchandise gift — A special thank-you for our Platinum guests, available at the Platinum Concierge