This is a living document. Please check back closer to the festival for more details!
Welcome to VIP!
Welcome back to Sea.Hear.Now! We're so excited to once again open the gates to Asbury Park for an amazing weekend of live music right on the water! Your VIP perks will help you make the most of your weekend with up-close viewing, a private lounge and more!
We've compiled this guide to help you take full advantage of everything VIP has to offer. We've also included essential info on our health and safety policies and general festival details. Be sure to share this with everyone in your group so all are in-the-know. And if there is anything we left off, email info@seahearnowfestival.com with questions. We can't wait to see you in the park!
BEFORE THE FESTIVAL
Health & Safety
Bring your Festival Wristband
Please also remember our updated bag policy– CLEAR BAGS ONLY – and No liquids are allowed to be brought into Sea.Hear.Now Festival.
There is no local requirement to provide a Negative COVID-19 test result, Vaccine Card, or Vaccine Record for entry at this event. If you are unvaccinated, the CDC encourages you to bring and wear a mask.
If you have questions about vaccines or want to get a vaccine, please visit Vaccines.gov to find the nearest vaccine provider near you. Current information about COVID-19, and recommendations for isolation and quarantine can be found at the CDC website.
How to Dress & What to Bring
Dress for comfort and be sure to check the weather forecast before you head out the door. The festival grounds are a combination of paved surfaces, boardwalk and sand, so choose your footwear accordingly. We recommend a hat and sunglasses, but if you forget anything, the Festival Store has lots of great merchandise offerings!
Review this link to be sure you are in compliance with our bag policy and to see what items are allowed and prohibited.
VIP Wristbands
Will Call
If your wristbands were not mailed to you and are at Will Call, you can pick them up at the Festival Box Office. A government-issued ID is required to verify your order and pick up tickets.
Box Office Location:The Box Office is located at the Wonder Bar Parking Lot . Located on the corner of Ocean Ave & 4th Avenue just south of the Wonder Bar building in Asbury Park, NJ
Box Office Hours:
Friday: 12pm – 6pm
Saturday: 10am–9:30pm
Sunday: 11am–9:30pm
Wristband Activation
Wristband activation ensures a smooth process when entering the festival each day and allows you to add emergency contact information to your wristband. All you need to do is enter your wristband ID number (located on the inside of your wristband) and contact info to activate.
GETTING IN THE FESTIVAL
Hours
Saturday: 12pm - 11pm
Sunday: 12pm - 11pm
Location & Entry Gate
Sea.Hear.Now takes place at North Beach of Asbury Park- Bradley Park-Atlantic Park 1300 Ocean Ave, Asbury Park, NJ 07712.
Passenger Drop Off & Pick Up Location
Our official passenger drop off and pick up location is:
115 4th Ave Asbury Park, NJ 07712
Car Parking
Click here to learn more about public parking options near the festival, and to view a public parking map via the City of Asbury Park's website.
‍Note: Due to road closures around the festival site, some public parking will be unavailable during Sea.Hear.Now.
Bicycle Parking
Bike parking at Sea.Hear.Now will be available at the corner of 4th Avenue & Kingsley Street – near the festival's Box Office and Main Entrance. Cyclists must provide their own locks.
Road Closure
Please note the following map for Road Closures for Sea.Hear.Now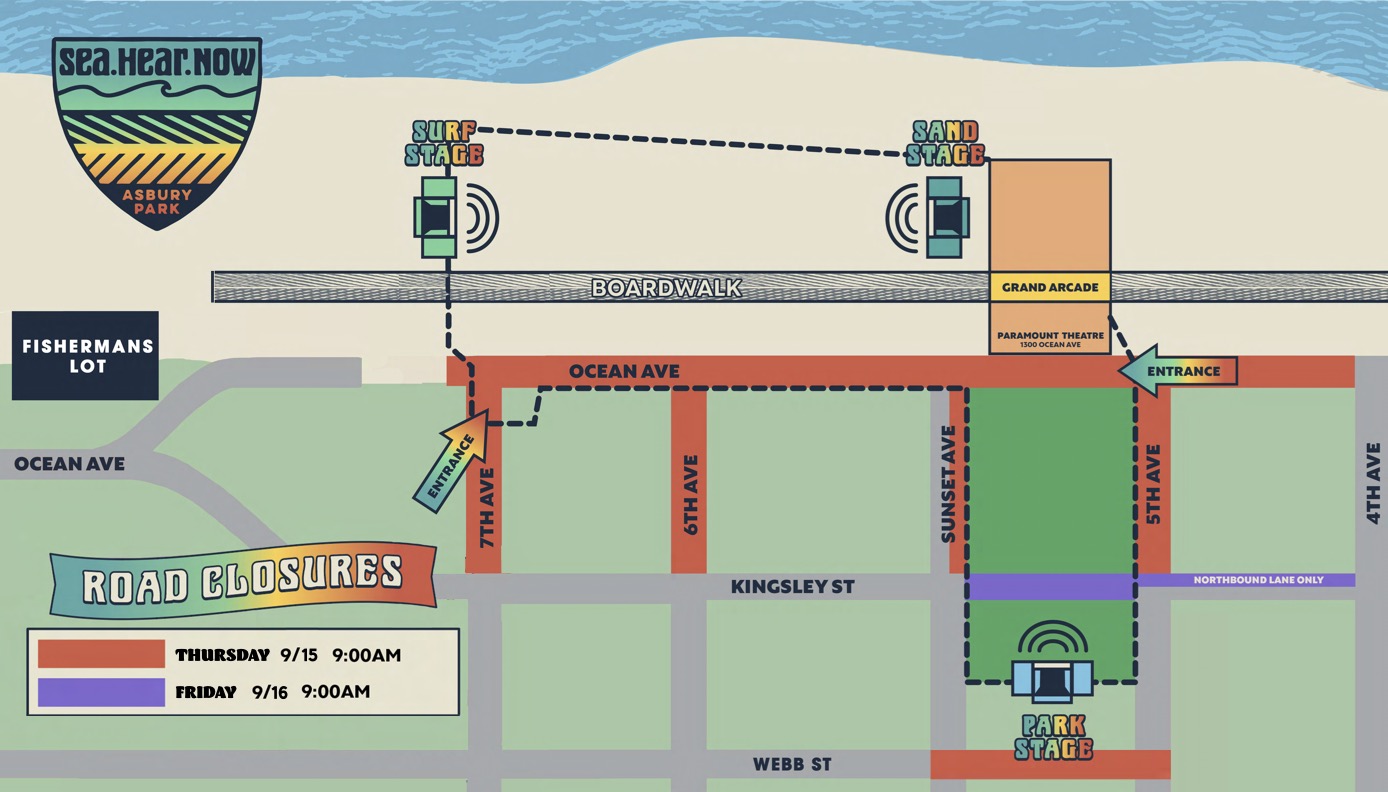 AT THE FESTIVAL
VIP Lounge
The VIP lounge is located between the Surf Stage and 7th Street. Look for the VIP entry portal near the 7th street roundabout on the north side of the street. Inside you'll find everything you need to make the most your Sea.Hear.Now weekend, including:
Shaded Lounge — A shaded space with a variety of comfortable seating vignettes.
VIP Bar — Never go thirsty with the wide range of beverage options for purchase, plus complimentary water and energy drinks.
Dedicated viewing areas at all three stages*
Premium bathrooms
VIP Dining options - enjoy some festival faves available for purchase only in the VIP Lounge. Full menu details below.
Lockers and mobile charging units — Safely stow your gear for the day in a locker, available for $20 for the day or $35 for the weekend. Each locker comes equipped with a mobile charging unit for re-juicing your device while on the go. Chargers can be rented separately for $20 for the day or $30 for the weekend.
VIP Lounge at Park Stage
Enjoy more VIP amenities over at the Park Stage VIP Lounge. Here you will find:
Front-of-stage viewing: Prime views of Park Stage, located house right (to the right if looking at the stage)
Private VIP Bar - serving full bar for purchase
Private air-conditioned restroom
Picnic tables to relax and enjoy the show!
Dining and Drinks
Beverage Offerings
Enjoy the convenience of bar service directly within the VIP Lounge and Park Stage VIP Lounge with a selection of beer, wine, seltzers, spirits and non-alcoholic options. All items for purchase except energy drinks and water, which are complimentary.
MENU:
• Tito's Sparkling Lemonade
Tito's Vodka + Fresh Lemonade + Club Soda + Lemon Garnish
• Aperol Spritz
Aperol + Cinzano Prosecco + Club Soda
• Hendrick's Cucumber Mule
Hendrick's Gin + lime juice + simple syrup + ginger beer+ Cucumber/mint garnish
• Basico Tequila Margarita Cocktail
• Corona 24 oz
• Corona Premier 24 oz
• Pacifico 24 oz
• Sierra Nevada Hazy Little Thing 19.2 oz
• Sierra Nevada Pale Ale 19.2 oz
• Miller Lite 24 oz
• White Claw 24 oz : Black Cherry
• White Claw 24 oz : Mango
• Mamitas Tequila & Soda 12 oz
Paloma or Tequila Sunrise
• Strainge Beast Hard Kombucha 12oz:
Ginger Lemon Hibiscus or Watermelon
• Wine Glass
• Soda 12oz
• Liquid Death Mountain Water 16.9 oz
• Celsius Energy Drink
• Waterloo Sparking Water 12oz
Dining Offerings
All food for purchase from the following vendors.
MOGO

Beef Taco – ($8) Korean BBQ marinated ribeye (bulgogi) with kimchi pico de gallo and chopped lettuce served on a six-inch soft flour tortilla.
Chicken Taco - ($7) Soy-ginger marinated chicken thighs (dak gui) with citrus-sesame slaw on a six-inch soft flour tortilla.
Fish Taco – ($8) Lightly floured cod (saeng sun) with pickled onion salad topped with spicy mayo on a six-inch soft flour tortilla.
Pork Taco – ($7.50) Spicy Korean BBQ marinated pork belly (jae yook bokkeum) with citrus-mayo slaw on a six-inch soft flour tortilla.
Korean Doughnut – ($5) Our signature rice flour doughnut w/ cinnamon-sugar and sesame filling (hotteok) topped with powdered sugar.
Local 1:30

Lobster Roll: ($33) New England style with fresh cooked lobster on a split top bun served with a side of chips. *contains seafood
Poke Bowl: ($28) Tuna or Salmon Poke bowl served with warm rice fresh sustainable seafood. *contains seafood
Shrimp Ceviche: ($25) Lime marinated shrimp served with Chips. *contains seafood
Shrimp Cocktail: ($25) Shrimp served with Cocktail sauce. *contains seafood
Hebros Kitchen

Lamb or Chicken Gyro w / Homemade TzaTziki and Lettucek ($18)
Falafel w/ Homemade Hummus, TzaTziki and Lettuce ($18) – vegan, vegetarian
Chicken Tenders & Fries ($16)
Loaded Fries ($18)
Fried Oreos ($10)
Mozzarella Sticks ($10)
Lemonade ($6)
Local Smoke BBQ

Pulled Pork Sandwich – ($16)
Chopped Brisket Sandwich – ($19)
Pulled Chicken Sandwich – ($17)
Buffalo Pulled Chicken Sandwich, topped with Blue Cheese Slaw and Buffalo Sauce – ($19)
Coleslaw – Side ($6)
Coleslaw - Top any Sandwich ($3)
Viewing Areas
Your VIP ticket gives you access to some sweet viewing areas for all three stages. Please note that while viewing areas are ample, they are subject to capacity and available on a first-come, first-served basis. With the exception of ADA zone in the viewing areas, no chairs are allowed.
Surf Stage
Front-of-stage- a designated area near the front of the stage located house-left (on the left side if looking at stage)
Elevated Viewing Deck - located within the VIP Lounge, this deck provides excellent views of the stage and crowd
Park Stage
Front-of-stage - a designated area near the front of the stage located house-right (on the right side if looking at stage)
Sand Stage
Front-of-stage — a designated area near the front of the stage located house-right (on the right side if looking at stage)